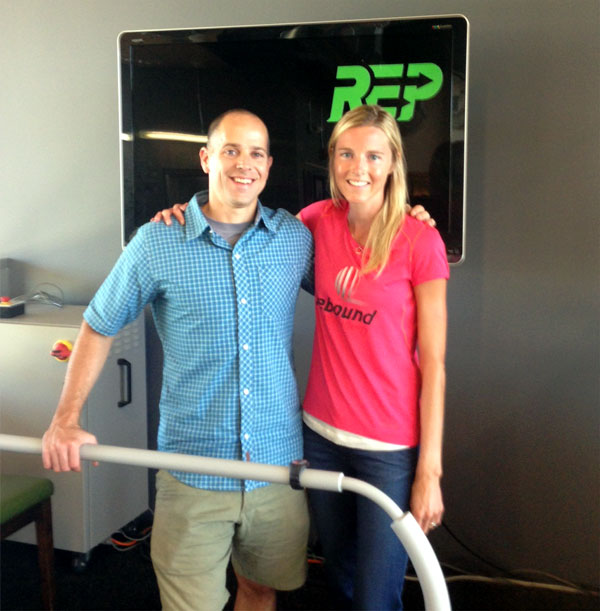 REP Lab. Engineering Better Athletes
Technology Driven, Evidence-Based Sports Performance with Jay Dicharry, PT
REP Lab uses a state-of-the-art force plate instrumented treadmill to collect your individual data in real-time.
Jay Dicharry, PT uses the data this to optimize your sports performance plan
To learn more or set up an appointment now:
Email Us / 541-419-8208
---
Upcoming Events
Running Strength PBC
When: March 13, 2014 5:30 pm
Where: Rebound Physical Therapy - West Bend Clinic

Running Strength PBC
When: March 20, 2014 5:30 pm
Where: Rebound Physical Therapy - West Bend Clinic

Sunriver Mudslinger
When: March 23, 2014 All Day

Click here for the Full Event Calendar
follow us
Tweets by @ReboundPhysio
Sign up for our newsletter!

View Past Newsletters
Mission
Combine Endurance, Explosiveness and Education to maximize sports performance at the REP Lab in Rebound's Westside clinic. Our lab director, Jay Dicharry, PT, is leading the field of biomechanical analysis, strength assessment, and functional mobility in sport. Our physiological specialist, Stephanie Howe, MS, provides coaching services and
individualized training plans to fit the needs of unique individuals
.
Jay Dicharry has been as leading biomechanist since 1995 and now brings his world-renowned expertise to the REP Lab in Bend, OR. The REP Lab not only partners with shoe companies to assist with design but assesses and treats athletes from the novice to the Olympic and professional levels. We focus on evidence-based best practices in treating underlying biomechanical problems, not just symptoms. By using extensive data analysis from proprietary cutting edge treadmill, force plate and 3D computer analysis software, Jay and his team can fine tune your stride, pedal stroke, address knee or low-back pain and increase your performance.
Stephanie Howe strives to provide coaching services, individualized training plans, and nutrition consults to fit the needs of unique individuals. She understands that most athletes are first and foremost normal, busy people trying to balance work, family, and play. An effective training or nutrition plan considers all these life obligations to achieve balance in life and maximize the benefits of training and fueling. Plans are not "one size fits all" and should be formulated to match the lifestyle and goals of the individual.