Professional Bike Fit – Performance or Medical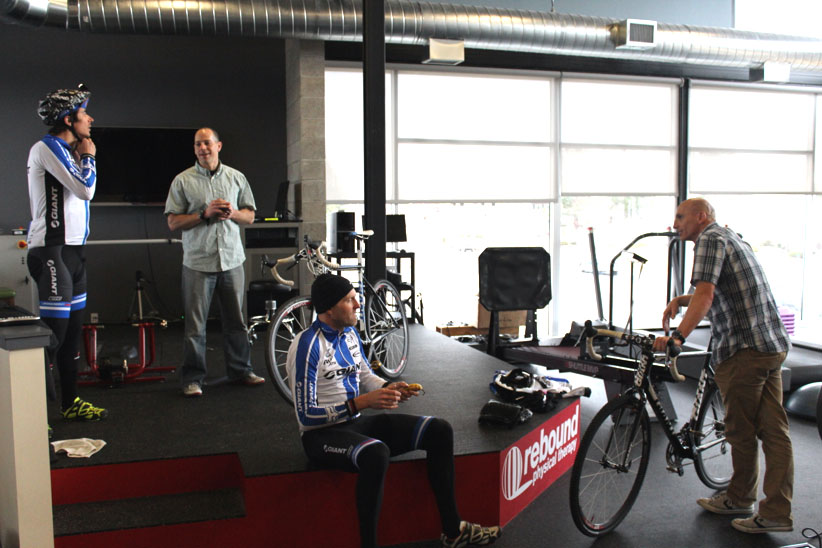 Ready for more information?

info@reporegon.com

 

or Call: 541-419-8208
Jay Dicharry, PT – Director of REP Lab in Bend, OR
What We Assess and How
Assessment of strength, mobility and cycling biomechanics
Cycling specific therapeutic exercises and manual therapy
Video analysis software
Shoe/cleat adjustment
Injury prevention
Strength training, balance, and flexibility
Transition to community-based performance improvement programs
Performance
Professional bike fits can maximize cycling performance, minimize cycling injuries and increase your comfort while riding. Combining industry-leading measurement tools with world-class experience and knowledge of sports performance biomechanics will help you achieve your cycling potential.
Medical
If you have neck pain, back pain, or knee pain, hand or foot numbness, or saddle sores your bicycle probably is not fitted to you properly. Correct cycling position is key to decreasing pain and preventing injuries as well as improving power and efficiency. A bike fit performed by a physical therapist also includes a biomechanical evaluation to determine if your cycling posture and pedaling mechanics need improvement.
Previous injuries can change riding symmetry and result in imbalances that can be corrected. Using tools ranging from video analysis software to manual therapies of massage and joint manipulation we are able to adapt the bike to work around the individual and teach the athlete to perform with optimum mechanics. For injured riders, your physical therapist will develop specific restorative exercise routines to help restore function and balance performance. Rebound treats cyclists ranging from casual commuters with knee pain to world cup racers in mountain biking, road biking, and triathlon.
To learn more or set up an appointment now: info@reporegon.com / 541-419-8208