Running Gait Analysis – Performance or Injury Treatment
Ready for more information?

info@reporegon.com

 

or Call: 541-419-8208
Jay Dicharry, PT – Director of REP Biomechanics Lab in Bend, OR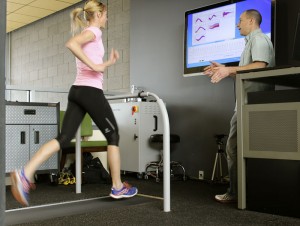 What We Assess and How
Assessment of strength, mobility and running biomechanics
Objective data from instrumented force plate treadmill and 3D video analysis
Interpretation of this objective data with corrective exercises, running form modification and footwear recommendations
Formulation of a plan to achieve your injury free running goals or rebound you back from injury
Avoid Injury. Increase Performance.
Running is one of the most elemental forms of exercise out there. Yet 82% of runners are hurt in their career, and about half of you are hurt each and every year. The REP Lab is poised to change those statistics, and improve your economy while we are at it.
Working with tens of thousands of runners has shown us that people are different, and can (and should) run in a manner that compliments their body structure. Its critical to assess your mobility, stability, strength, and power to determine how you should run. Because we all know that (running) form follows (body) function. From here we'll delve into one of the most comprehensive 3D running assessments you'll find in the country. After we know what's going on, we'll assemble a treatment plan to address your unique issues and fix your body and your running form for the long term.
An Objective Eye: Data doesn't lie.
Lots of authorities begin their running assessment by watching you run. While the trained eye can pick out a lot of detail, it misses the bigger picture entirely. To put it simply, your body's joints do not move without forces acting upon them. At the REP Lab, the cornerstone of our evaluation is a detailed focus on your ground reaction forces: the forces that cause you to move as you run. Our unique instrumented treadmill and custom software allow us to examine exactly when, how much and where these forces act on you.
Injury: When you have the ability to quantify the things that no eye or camera can see, you can zero in on your causative biomechanics—the true cause of your issues. This approach is the single most effective way to identify a problem (or problems) and correct it.
Performance: Our objective analysis allows us to answer questions for you. Instead of asking, "How should I run?" our system allows us to show you in real time. It's the difference between finishing and finishing with a new PR.
Footwear: Our skills are sought out by the footwear industry for innovation and validation testing. We use this same approach to identify what footwear choices match up with your body and gait style.
To learn more or set up an appointment now: info@reporegon.com / 541-419-8208